Auburn High School

In Memory
Joseph Kobernat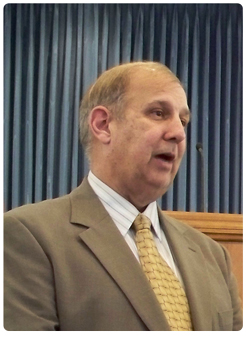 Pastor Joseph C. Kobernat, 59, of Geneseo and longtime Pastor of the First Baptist Church, Geneseo was called home suddenly on Friday, February 19, 2016 to be with his Lord and Savior Jesus Christ, at the Hammond-Henry Hospital Emergency Room. A Funeral Service celebrating his life will be held at 10:30 am on Wednesday, February 24th at the First Baptist Church, Geneseo. Pastors Joel Kobernat, Jeremy Kobernat, Mark Swanson, and Dr. Jack Trieber will officiate. Burial will follow at North Cemetery in Geneseo. Visitation will be from 4-7 pm on Tuesday at the First Baptist Church, Geneseo. Memorials may be made to the Pastor Joe Kobernat Memorial Fund, to be distributed among several organizations. Vandemore Funeral Homes & Crematory is assisting the family with arrangements.
Joe was born on February 22, 1956 in England, the son of James and Janet (Johnson) Kobernat. He graduated from Auburn High School in Rockford, IL and went on to earn a Bachelor's degree in pastoral studies from Maranatha Baptist Bible College in Watertown, WI. Joe was united in marriage to Cindy Vigil on June 11, 1977 in Denver, CO. He taught at Berean Christian High School in Rockford, IL as well as coached for 16 years. In 1995, he became the Pastor of the First Baptist Church in Geneseo where he had served his church and his Lord for the past 20 years. His life and ministry has impacted hundreds, influencing full-time Christian workers who are now scattered across the world. He was a devoted Pastor to his church and loved his God. He loved spending time with his family, especially his grandchildren.
Those left to honor his memory are his wife, Cindy; daughters: Julie Kobernat (fiancé Kevin Walsh), Clarksville, TN, Jill (Don) Ghrist, Lancaster, CA, Jessica (Curt) Anderson, Orion, IL, and Jennifer (Caleb) Schnurr, Cambridge, IL; sons: Pastor Joel (Taryn) Kobernat, Davenport, IA, Pastor Jeremy (Joanna) Kobernat, Roanoke Rapids, NC, and Jared Kobernat, Geneseo, IL; grandchildren: Angelina, Eden, Lacey, Savannah, Gabriella, Chloe, and Reagan who will be born soon; sister: Linda Erickson, Rockford, IL; brothers: Jim (Vickie) Kobernat, Rockford, IL, Terry (Melanie) Kobernat, Winnebago, IL, Curtis (Susan) Kobernat, Gurnee, IL, and Jeff Kobernat, Rockford, IL.
He was preceded in death by his parents.