Auburn High School

In Memory
Gregory Foote (English)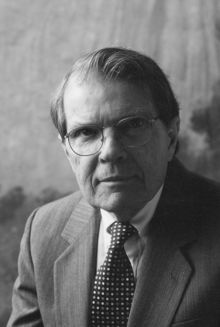 Gregory P. Foote, 89, died Oct. 5, at St. Vincent Hospital.
Mr. Foote was born Aug. 6, 1924, in Chicago, to Peter and Gertrude (Quinn) Foote. He had four older half-siblings and was the second of nine children born to Peter and Gertrude. Mr. Foote graduated from St. Ignatius High School, entered the novitiate of the Society of Jesus (Jesuits) at Milford, Ohio, and completed bachelor's and master's degrees from Loyola University, Chicago. He was ordained in 1955. He taught Latin and literature at several Jesuit schools and was a founding faculty member at Brebeuf Jesuit in Indianapolis. He also taught at Georgetown University's Institute for Language and Linguistics.
In 1967, he left the Jesuits and moved to Rockford, Ill, where he advocated for desegregation and the establishment of alternative programs in public schools. He was a founder of the Rockford Alternative Middle School and the Rockford Academy for high school students. Mr. Foote's students thrived on active, experiential learning, participating in archaeological research with Northwestern's Center for American Archeology and learning survival skills in the Florida everglades. He was named Illinois Teacher of the Year in 1979.
In 1983, Mr. Foote returned to Indianapolis and Brebeuf, where he taught until retiring in 1997.
He is survived by his former wife, Barbara, their sons, Daniel (Sylvia) and Matthew (Rebeca), two grandsons, Benicio and Manolo, four sisters (Mary Jane, Alice, Trudie, and Patricia), one brother (Bernard), a foster son from Illinois, and numerous nephews and nieces.
Mr. Foote's legacy lives in the love of poems and literature he instilled in others, his love for nature, and his passionate advocacy for the planet we share. He is unforgettable to the thousands of students to whom he was an inspiration.
Those who wish to remember him are invited to consider the Sycamore Land Trust, (sycamorelandtrust.org) 4898 E. Heritage Woods Rd., Bloomington, IN 47401, or a gift to their favorite charity.
A memorial will be held on Sat., Oct. 26, at 2:00 pm, at the Unitarian Universalist Church of Indianapolis, 615 W. 43rd Street.
You are invited to go to the Guest Book page to pass along your personal message or tell a story.