Auburn High School
Class of 1973
In Memory
Leonard Beck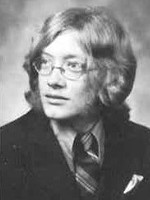 Leonard M. Beck, 20, 419 Bancroft Court, was found dead at about 3:20 p.m. Thursday, May 1, 1975, at his mother's home, 207 N. Johnston Ave., from apparent carbon monoxide poisoning.
Born Jan. 23, 1955, in Rockford. Lived all his life in Rockford. Married the former Linda Garner in Rockford, November 30, 1974. Employed as a cook by Hoffman House Restaurant at the time of his death. Member Berean Baptist Church. A former award-winning carrier salesman for Rockford Newspapers, he was named a Young American in 1970. Attended Auburn High School. Survivors include his widow, Linda; a daughter, Jennie; two brothers Stanley and Leslie; two sisters, Martha and Patricia, and his parents, Duwayne and Lillie B. Beck, all of Rockford; paternal grandmother, Mrs. Clara Johnson, Rockford; maternal grandparents, Mr. and Mrs. Jess Mollencupp, Pecatonica; numerous aunts and uncles.
Services at 9:30 a.m., Monday May 5, 1975, in Gasparini & Oliveri Funeral Home, 707 Marchesano Drive, with Rev. Melvin Swanson, pastor of the Berean Baptist Tabernacle, officiating. Burial in Sunset Memorial Gardens. Friends may call at the funeral home from 7 to 9 p.m. Sunday.