Auburn High School
Class of 1973
In Memory
Thomas Heanue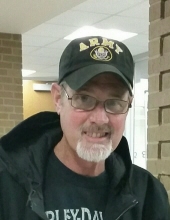 Thomas Heanue, Jr. 63 of Rockton, IL died at 10:53 a.m., Saturday, June 30, 2018 in Saint Marys Hospital in Rochester, MN after a lengthy illness.
He was born May 29, 1955 in Brooklyn, New York the son of Mr. and Mrs. Thomas and Catherine (Mc Intire) Heanue, Sr. Thomas attended Auburn High School in Rockford, IL. He married Debra A. DalSanto in Rockford, IL on September 21, 1973. Thomas was employed as a heavy machine operator and an arborist for the City of Rockford for over 30 years. After retiring he owned and operated T & H Tree Service in Rockton, IL.
Tom enjoyed spending time with his family, fishing and tinkering around his property. He will be deeply missed by his daughters and grandchildren.
Survivors include daughters Erin (Cavan) Spedding of Byron, IL and Emily (Tyler) Williams of Beloit, WI; grandchildren Avelynn and Irelynn Spedding, Harper, Cohen and Reid Williams; brother Frank Karpinski; sisters Susan Zagozda and Joanna Heanue; brother Timothy (Sue) Heanue; sister Lisa Heanue and numerous nieces and nephews. He is predeceased by his parents, wife and brothers Stan and Robert.
Funeral Ceremonies to be held 10:30 a.m. Monday, July 9, 2018 in McCorkle Funeral Home-Rockton Chapel 767 N. Blackhawk Blvd, Rockton, IL with Reverend Cory Williams of Central Christian Church officiating. Burial will be in Willwood Burial Park in Rockford, IL. A visitation will be held at the funeral home from 2:00 p.m. to 5:00 p.m. Sunday, July 8, 2018.
In lieu of flowers memorials may be given to the family.